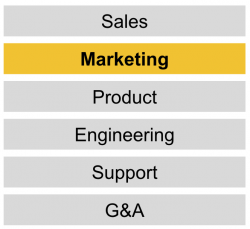 This is article #8 out of 50 in The Startup Marketing Playbook.

For a B2B startup, establishing a basic marketing function is a requirement for growth. Particularly once product-market fit is established, marketing is needed to:
Create messaging, positioning and value props
Establish infrastructure and tools needed to scale (e.g. CRM and marketing automation)
Generate leads for the sales team
In the very beginning, often a non-marketing person needs to start executing on those initiatives. However, building a marketing organization is a full-time job. Let's build a persona of who you need to get started:
1. The first marketing hire needs to be an architect
This person is highly entrepreneurial and enjoys building from scratch. Not only do they need to define what types of marketing your company needs, but they need to "write the playbook" on your marketing strategy and then personally execute that playbook to accomplish the 3 objectives listed above. This is extremely important because if you hire someone that can only operate within someone else's playbook instead of building the system themselves, they will flop.
2. The first marketing hire needs to be technical
Much of the initial architecture of a marketing organization, from determining an effective data model (i.e. what fields to configure in the CRM) to integrating the marketing automation system with the CRM to editing HTML and CSS in email templates requires technical skills. You don't need a full stack software engineer, but someone who knows their way around systems, code and data will be very helpful.
3. The first marketing hire needs to be creative
In addition to being technical and entrepreneurial, the first marketing hire also needs a creative twist. Leading workshop meetings to narrow down messaging, guiding designers in creating collateral and developing the first 1-liners used to describe the company requires creativity. Needless to say, identifying someone who can do this and the technical side can be a challenge.
4. The first marketing hire needs to be both strategic and tactical
In the beginning, the first marketer needs to constantly jump between defining the big picture strategy (i.e. writing the playbook) and executing day-to-day (e.g. creating the first email campaigns that drive actual leads). A catastrophic mistake would be to hire someone who is too senior and doesn't want to roll up their sleeves and do everything themselves at first. You need an architect who is also a builder. While you may have budget to hire additional people to support the first marketer, it's ideal to hire someone who can handle it all at first.
5. The first marketing hire should be able to hire a team
In an ideal world, your first marketing hire is capable of architecting and building the initial marketing organization from scratch, and also can recruit a team of "A" talent around them. As I mentioned in the last post, there are 4 core roles needed at the start of a high-performance B2B marketing team. Can this person bring those other 3 people to the table?
So tactically, what does this look like?
The first marketing hire is often the "lead" described here in the structure of a marketing team. Their title might be Director or Head or VP of Marketing. They should be a key member of the leadership team and willing to put in the extreme time and effort needed in the beginning to build from scratch. Thus, their compensation should be a healthy mix of cash and equity.