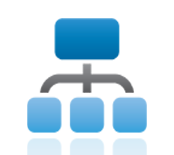 In the very early days of a startup, there are typically two founding roles: technology and business. The technology founder is architecting and building the product. He is essentially serving as the head of product and engineering. At the same time, the business founder is selling and supporting the product. She is essentially serving as the head of sales, marketing and customer success. Both founders are likely contributing to administration, fundraising and hiring, so they are both essentially serving as head of operations and in some cases, sharing CEO responsibilities.
There is a specific moment in a startup's growth when it becomes clear: the founders can't do everything anymore. This is a pivotal point in a startup's lifecycle because it mandates some structure and organization to scale. Specifically, it requires hiring a functional leader for each operating area of the business. While the founders had to be generalists and constantly context switch between areas of the business, functional leaders (often Director, VP or Head of X) are domain experts that are highly specialized in making one area of the startup crank. Most technology startups have the following functions:
Product
Engineering
Sales
Marketing
Customer Success
Operations
If we have the right product-market fit and there is a rockstar leader for each of those functions, the company is going to soar. The challenges often come when there isn't the right leadership in each function, which weakens the entire team since each function is immensely intertwined with the others. Each of these functions must communicate flawlessly with each other and operate in unison. Let's break down each function and a simple persona for the leader we need:
Product
The product leader is often a co-founder because of the powerful product vision he has had from the beginning. As the company scales, the VP Product needs to be an exceptional communicator, collaborating with every other function and customers to define what we are going to build and confirm the product fits the market and enables us to sell. This leader needs to be technical: at least understand the basics of coding (if we're a software company) and collaborate with engineers to understand timelines and development cycles. A strong product leader understands how each of the other functions support them and ensures that engineering, sales, marketing and customer success are ready to build, sell and support a new product.
Engineering
The cost of having the wrong engineering leader in place in the beginning is astronomically high. This is because of technical debt — architecting our product in an inefficient way and later needing to re-build (i.e. refactor) code in order for the product to scale. We must invest early on in the right technical leadership that can architect our product and systems to support growth. This can certainly be a co-founder, but they better have real engineering experience scaling a product. Often, the co-founder builds the prototype, and then hires stronger engineers to take it to the next level.
An excellent engineering leader is technical and can advise on technical decisions, and is also highly strategic. He understands the business drivers and can communicate effortlessly with product and sales to align development priorities with what the market needs. He is also a master recruiter: he can jump on a table and get engineers wildly excited about what we are building.
Sales
An ideal sales leader is a player-coach: she can get on a sales call to close a deal and is just as comfortable guiding the team on best practices. The VP Sales needs to architect the sales process for scale. This means she needs to build out our CRM system and sales playbook, such as how we define the sales cycle stages, the tasks a rep must complete at each stage, and key points to address sales objections. She needs to be highly data-driven, pouring over metrics in the CRM on sales stage conversion, closed/lost deals and individual rep productivity data.
Depending on the industry, relationships and a rolodex of targets to call on is a huge advantage in the VP Sales. She should be able to accelerate the sales team at a much faster velocity as a result of building similar teams before. Similar to the other roles, the VP Sales must be excellent at recruiting and nurturing sales reps, getting them excited about the opportunity and demonstrating how it will enable them to advance their careers.
Marketing
The marketing leader must be a true collaborator, working closely with sales and customer success to define a funnel that converts targets > leads > opportunities > customers. She is responsible for creating the messaging, positioning and story that everyone in the company uses to communicate value, from investor presentations to sales calls. Once that story is defined, the marketing leader must build a pipeline of qualified leads for the sales team. She must be technical enough to do every aspect of an inbound marketing campaign herself, from writing content to designing assets to configuring our marketing automation system. The marketing leader is often the "data guru," who other members of the team come to for a better understanding of KPIs and customer conversion results.
The marketer is often context switching exceptionally frequently, jumping from the company's overall brand that is used for recruiting to measuring campaign results of different channels and adjusting the next month's demand generation budget accordingly. This broad exposure gives a strong VP Marketing the insight needed to recruit rockstar team members for each sub-function within marketing, such as product marketing, growth, content and design.
Customer Success
Once we successfully close deals and have a thriving customer-base, there is still a ton of work to do. The Customer Success leader is responsible for the bottom of the funnel: once a deal is closed. This includes onboarding, training, support, retention and upselling. A strong VP Customer Success is highly relationship driven: it's the guy that everyone likes and immediately owns the room. He needs to be highly organized and meticulous: great customer success leaders often have VIP client's birthdays in their calendar. He must be incredibly calm under pressure, because major customer issues or product bugs that anger customers are often escalated to him. His ability to manage those situations often is a key driver in retaining customers.
The customer success leader also needs to be sales oriented, because we are often relying on his team to upsell customers with additional products and services. This only works if we have delivered great service, built solid relationships and of course have built a product that truly addresses our customer's pain. This role is often less technical than the others, but still requires a leader who can easily use and pull data from our CRM and support tool.
Operations
This function is different in each startup. I like to define it as everything that makes the business actually run internally. This typically includes recruiting, culture, HR, accounting and business systems. These items are often led by a founder ad-hoc in the early days. As the company scales, we need to define real processes for building a recruiting pipeline and establishing the internal systems (CRM, billing, data management) needed to support an influx of customers. The VP Operations must be able to project what the business will need 12-24 months from now and architect internal systems that support that growth. For example:
If we need to hire 10 people in Q3, what recruiting activities today will build pipeline?
If we are launching channel sales in Q4, how do we get deal data from partners?
The operations leader needs to project the needs for each of these business cases, and assemble the resources (people and systems) to support growth. She is immensely data-driven, process oriented and meticulous. She thinks about every little detail so the CEO and VP Sales don't need to. However, when she communicates with other stakeholders, she knows which details are relevant to the conversation and which details to leave out.
Next Steps
It is the CEO's job to define these roles and recruit amazing leaders for each function. Failure to accomplish that task results in great pain for the company as resources are stretched and gaps widen. In the early stages, there might be leaders owning multiple roles (i.e. Product/Engineering and Sales/Marketing). This is acceptable when we have limited resources to hire, but make no mistake, the focus needed for product vs. engineering and sales vs. marketing is wildly different. As the company scales, we want a domain expert that is maniacally focused on making each function a success. We ultimately win when these experts operate as an organized whole, understanding how the functions are connected, communicating and supporting each other.