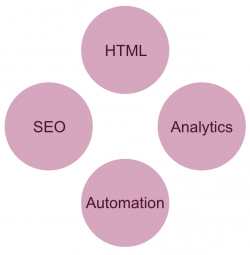 This is article #31 out of 50 in The Startup Marketing Playbook.

In the not so distant past, "marketing" was primarily focused on large scale media campaigns in print, billboards and television. The marketing role often mandated expertise in project management or some serious creative juice. Those skills are certainly still important, but now there are new skills that are critical for marketers to have: technical skills.
If you consider hiring a recent graduate from college looking to get into marketing, the following technical skills have become a requirement:
HTML and CSS
We expect marketers today to be able to go into the code of an email or web page and make basic changes. Marketers shouldn't need to rely on a clunky content management system — instead, they should have full control over web and email assets by leveraging code.
The learn to code movement is far from new, and many people that are entering the marketing world are coming in with these skills in hand. This phenomenon increases the competitive velocity in the marketing field, and mandates that you get up to speed on basic web development.
SEO
If you are leveraging the inbound methodology, all marketing activities center around driving traffic to your website, guiding targets to valuable content and convincing them to trade their contact information for that content. The underlying foundation of this strategy is the part where you drive traffic to the website, and you do that in large part with SEO (Search Engine Optimization).
From understanding keyword analysis to the effective use of alt tags and inbound links, today's new marketers should be well versed in basic SEO and be able to enhance their organization's web presence with quick SEO wins.
Analytics (Google, Localytics, etc)
Digital marketing is grounded in measurement and optimization. The technical marketer of today needs to be comfortable using Google Analytics and other similar tools that provide insight into web visitors, content performance and click-through to web pages.
Especially in the startup world, you are unlikely to be able to afford a data analyst on staff, at least in the early days. Therefore, the marketing team must be comfortable working with large datasets in Excel and able to quickly generate a pivot table to gain insights.
Marketing automation
Finally, new marketers need to be able to easily use today's popular marketing automation tools, like Hubspot and Marketo. These systems can get fairly complicated and have a learning curve (but can be picked up quickly by the right person).
Fast-paced marketing organizations want to hire people that are already up to speed, or can get there very quickly with minimal lag time for training on the tools. Therefore, consider getting trial accounts and watching videos for the most popular marketing automation systems and web tools.