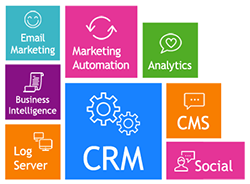 This is article #33 out of 50 in The Startup Marketing Playbook.
Here's what I think happened: engineers are always talking about the "stack" they develop in: simply the list of programming languages and template libraries they use to program. Marketers maybe felt a little jealous and also wanted to have a cool way of explaining all of the tools we use. Therefore the emergence of the term "marketing stack." Similar to engineering, this is a list of the many software applications marketers use to manage campaigns, measure and develop marketing activities.
The competitive landscape for marketing tools is an absolute bloodbath — there are hundreds of valuable SaaS apps for marketers to leverage for better performance and efficiency. Selecting the right mix of tools (i.e. stack) is important to ensure they all work together seamlessly.
Adroll wrote a truly fantastic blog post about their marketing stack:
https://blog.adroll.com/trends/what-is-a-marketing-stack
To not reinvent the wheel, look at Adroll's post for guidance and consider the following when selecting your stack:
1. Be biased towards all-in-one
There is a reason why the last decade has made the marketing automation system king. We can conduct the vast majority of our marketing activities all from one place. The value we get from this is not just convenience — the native connectivity means that a lead opening an email could trigger actions like displaying different content on the website the next time they visit. This works seamlessly because there is true native connectivity — everything was built to work together.
2. Be wary of integrations
I have been burned many times by applications offering "integrations" because those integrations end up limited and unreliable. Connecting software together is naturally a cumbersome exercise. For the record, there are plenty of third party tools, like Zapier, that help bridge the integration gap. I'm not saying it isn't possible, it just isn't ideal. Whenever you can opt for all-in-one, you should go for it.
3. Don't be afraid to specialize
Despite the warning about integrations above, there are some unique marketing tools that add a highly specialized capability to your marketing stack that other services might lack, including an all-in-one marketing automation system like Hubspot. If that's the case, by all means, opt for the specialized service and see how it works. It's potentially acceptable for a service to not seamlessly integrate with the rest of the stack, as long as it is delivering real value.
4. Constantly experiment
Savvy marketing teams are constantly on the lookout for new tools to improve their stack. It's good to have a Digital Experiment fund within the marketing budget to use for small $50 per month SaaS tools which might positively impact marketing performance.