This is article #41 out of 50 in The Startup Marketing Playbook.
Throughout this series on marketing, we've covered quite a bit about crafting a startup's story with marketing and positioning. This translates into ebooks, webinars and other inbound campaigns. However, there is a critical source of information during the buyer's journey that marketing does not have full control over: what messages the sales team conveys. As a marketer, you need to put effort into training the sales team on your messaging and positioning. You need them to embrace your brand's story and make it their own. It's essential that you conduct effective training for sales. As you do so, consider the following:
1. Make the story a part of the onboarding process
Every time a new employee joins your team, you need to educate them about your story. It should be hammered into their mind from their first day on the job. You need a comprehensive slide deck that marketing presents to new hires, breaking down the core concepts of your story. Depending on their role, it may be valuable for new hires to read your ebooks, listen to webinars and join sales demos to see the messaging in action.
2. Create internal collateral
Just as you have a wealth of prospect-facing collateral, you also need to create internal collateral to help train your team. The primary component should be a "Guide to Messaging and Positioning", reviewed at least annually, that breaks down all of the important building blocks of your story. It needs to be easily comprehensible and memorable. Here is an example: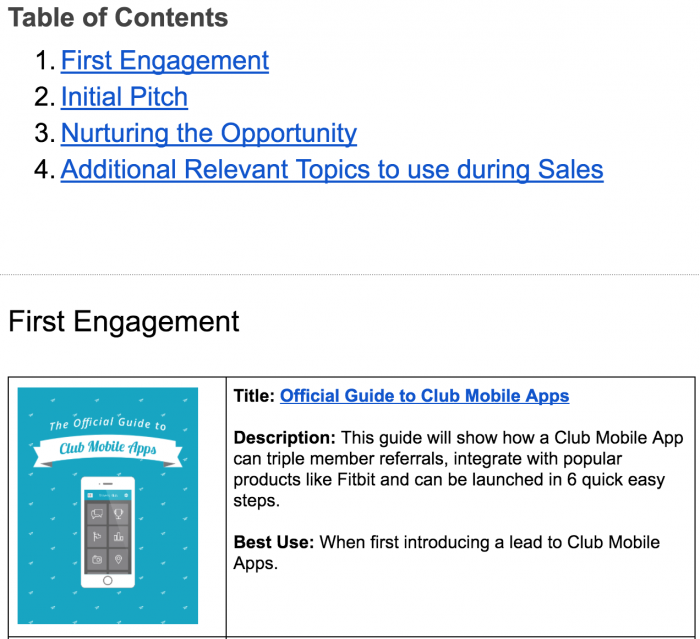 3. Create memorable use cases
To help sales identify with your story, you need to use personas and create memorable use cases. For example, at Netpulse we have a set of examples of how "Matt Manager" uses our mobile app for his gym. We've turned them into easy to read infographics that the sales team can immediately understand and put to work in their process.
4. Hold quarterly training webinars
Don't rely on the sales team to read collateral themselves. As part of effective sales-marketing alignment, you should host quarterly training webinars where your Product Marketing Manager reviews messaging, highlights updates based on market feedback and clarifies confusion for the sales team.
5. Join demos and provide feedback
One of the best ways to see if your messaging is actually translating in the marketplace is by listening to sales demos. Many teams have software that records demos, or a group dial-in where marketing staff can sit silently on a call. Marketing's job is to silently observe, take diligent notes and give the sales team feedback on methods how they can highlight certain messaging points that will help move the prospect faster through the buying process and eliminate sales objections.
6. Be available to sales as a resource and partner
Most important, part of Marketing's job is to serve as a resource and partner for the sales team. If you've built an effective culture, sales reps should be comfortable speaking to Product Marketing staff about messaging feedback and clarification.