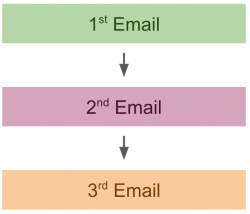 This is the 27th post of a 50 article series for new marketers at B2B startups.
Inbound marketing is all about attracting targets to your website, providing them with valuable content and capturing their contact information when they download, thus making them leads. Once you have leads, your goal is to further educate them about your product until they request a demo to talk to your sales team, becoming a marketing qualified lead (MQL).
So what happens between when you get a lead and when they become an MQL? The key is to nurture them in a systematic, automatic and effort-free way. To do this, you need to build lead nurture workflows. This is simply a drip campaign of emails: a series of emails that are scheduled to send in a series, one after another, until the lead takes a desired action, like requesting a demo.
Setting up lead nurture workflows is straight forward. Let's break it down: