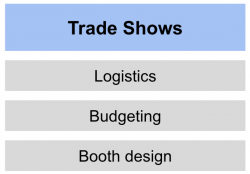 This is article #28 out of 50 in The Startup Marketing Playbook.
Despite the incredible digital channels marketers have today, large trade shows are still a powerful force in the marketing world. These typically involve vendors setting up massive booths in a convention center with thousands of attendees (ideally target persona customers) wandering through the maze of vendors, learning about new products and sometimes purchasing on the spot.
A large trade show will likely be your most expensive marketing investments of the year. Therefore, it's critical that you manage it exceptionally well and account for all of the little details in order to ensure you are positioned to get a high return on your investment.
When I managed Netpulse's trade show presence at IHRSA (10,000 attendees); it was the company's first real trade show experience and we had to define everything from scratch. In the end, the show was very successful for us, and I learned a ton of best practices. This post is a breakdown of those best practices, in chronological order, from preparation months prior to the day of the show.